Deodorant is an essential item in every individual's daily routine, but have you ever stopped to consider the impact your deodorant packaging has on the environment? Most deodorant packaging is made from plastic, which takes hundreds of years to decompose and contributes to the world's plastic pollution crisis. Fortunately, Anderly Packaging has come up with a solution – an eco-friendly deodorant paper tube that's made from plastic-free materials.
Anderly Packaging is a leading manufacturer of eco-friendly packaging solutions for a range of industries, including cosmetics, food, and candles. The push-up deodorant paper tube is a sustainable option for brands that want to reduce their environmental impact while still offering high-quality products.
So, what makes the Anderly Packaging deodorant paper tube different from traditional plastic packaging?
Firstly, the tube is made from food-grade paper and uses a specialized layer of greaseproof liner inside to prevent deodorant leakage. This unique design not only keeps your deodorant mess-free but also ensures that the product stays fresh and effective for longer.
Another standout feature of the Anderly Packaging deodorant paper tube is its sustainability. The tube is plastic-free, making it fully recyclable and biodegradable. By choosing this eco-friendly packaging option, you can help reduce your carbon footprint and contribute towards a more sustainable future for our planet.
In conclusion, the Anderly Packaging deodorant paper tube is a perfect example of how innovation can drive sustainability. With its plastic-free materials, greaseproof lining, and attractive design, it represents a promising future for eco-friendlier packaging options. If you care about the environment and want to make a difference, choose Anderly Packaging's deodorant paper tube for your next purchase.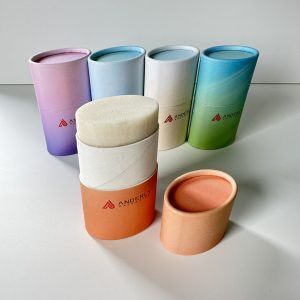 Oval Push-up Paper Tube for Deodorant